As 2019 begins to wind down, I am reflecting on what I learned this past year. The main concept I keep returning to is a message I learned attending my first .OrgCommunity Solutions Day: "Keep it Simple."  
You Can't Be Everything to All Your Members 
Garth Jordan, Chief Strategy Officer and Senior Vice President of the Healthcare Financial Management Association (HFMA), gave a fantastic presentation called "Start with Simple." (If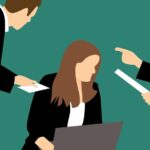 you have the opportunity to check out this presentation in its entirety, I highly recommend you do.) He challenged us to keep our priorities simple and focused. Associations can't and shouldn't try to be everything to every member. Prioritize what is important to your Association and your mission. Re-examine your mission statement. Examine your data and remove the programs, publications, or events that are not in-line with your mission. Simplify your member benefits. The more you get in-touch with your core beliefs and offerings, you will marvel at how much more engaged your members will become. 
Look Back to See the Future 
This sounds great, but as we know, getting back to basics and stripping down excess information is much easier said, than done. I, personally, have a hard time peeling back the all the data I've collected over the years to simplify goals in my own life. It was much easier when I was a kid. As children we have less experiences, and we focus on the immediate. Prioritizing was simpler then. 
As with children, associations grown and mature. With that growth comes added information and viewpoints that can complicate an organization's quest to fulfill its mission. To show that simplification is possible for any organization, Garth gave several examples of various sized organizations, including his own, simplifying their processes, offerings, and goals. Internally, he analyzed data, and he looked at trends. He realized there was a need for change at HFMA. Things were too complicated. His goal was for HFMA to become the Netflix of associations and simplify their member benefits/services. It worked for HFMA. They simplified, prioritized, and increased member satisfaction and renewal.    
Digital Transformation Helps in Simplification 
Over this past year I have seen presentations on cultural change, harnessing collaborative knowledge of virtual events, taming the information jungle, business intelligence, and how data can be transformative.  As I sit back now and reflect, each one of those presentations cited tools or processes that contribute to an organization's simplification transformation.   
At Altai we have been speaking about and helping our customers go through Digital Transformations each time we take them off a legacy system. There is a trend in the Association industry to leverage "platforms of technology" to support growth and digitally transform. After reflecting more about the idea of simplification, I realize that I need to ask new clients:
Are we helping your association simplify? 

Are you looking to simplify your data, processes, and operations? Or 

Are you merely replacing your old technology with new technology?"   
Our most strategic customers are the ones that ignore the "this is the way we have always done it" mentality and have challenged the status quo. They wanted to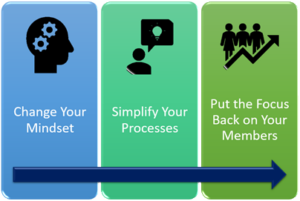 Change their mindset

Simplify their processes

Put the focus back on their members
By implementing a fully realized Platform, they simplified the flow of data throughout their entire organization. They have been able to re-focus on their mission and better serve their members. 
Final Thoughts 
Full disclosure: I went through my own process of simplifying this blog. I wrote several iterations and kept changing my messaging along the way. I wanted to say so much, but I finally realized I can say more with less. Simplify and Focus your goals for 2020. You won't be sorry.  
Gary Francart, Altai's Vice President of Sales, authored this article. To contact Gary and discuss the topics presented or learn more about how Altai can help you realize your own Digital Transformation, contact him at sales@altaisystems.com.