Altai Financial System - From the Beginning...
Before starting Altai Systems, founding partners Mike Frye and Jon Martin founded Signature Systems, one of Microsoft Great Plains' largest partners of the late '80s. Their success was so well-established as an ERP / Accounting Solutions Partner; Signature Systems was acquired by Ernst and Young. It was this transaction that brought Mike Frye and Jon Martin together as business partners and, with their combined expertise, led to Altai Systems.  
Using their accounting solutions backgrounds, they developed Altai's financial solution to provide the functionality and combined ease of use that accountants and accounting staff need to do their job. As technology has improved, so has our understanding of accounting solutions and how we can make the lives of accountants easier.  
Outlined below is an overview of our solution and how we surpass the functional needs of accountants to make their lives simpler. We streamline processes and implement best practices as a part of automation (i.e., auto reconcile, auto batch creation, auto dues bill renewal, wallet payments).  Below we'll cover everything from administrative and setup; to tracking revenue starting with the web portal and going all the way to your financial system. 
What
 We'll
 Cover:
Accounting and Financial Management 

Administration

 

Multi-Company

 

Easy to Use Dashboards and Reporting

 

Batch Management & Integrations

 

Advanced Accounting Tools

 
Accounting and Financial Management
The Accounting and Financial Management system provides a complete, "end to end" solution.  Provided below is a high-level overview of the different accounting tracks starting with administration, invoicing, and all related processes, concluding with reporting.   
Administration – The Altai solution provides a central system that you can use to manage all these accounting functions.  This enables staff members to go to one place to set up, manage, and update as needed.  Outlined below is an overview of the different areas of the system and what it provides our clients. 
Multi-Company – The system supports setting up and managing one or more companies.  Within each company, you manage your products (everything in one place). This support includes a chart of accounts for each company, automated inter-company transfers (when needed), and reporting by each company.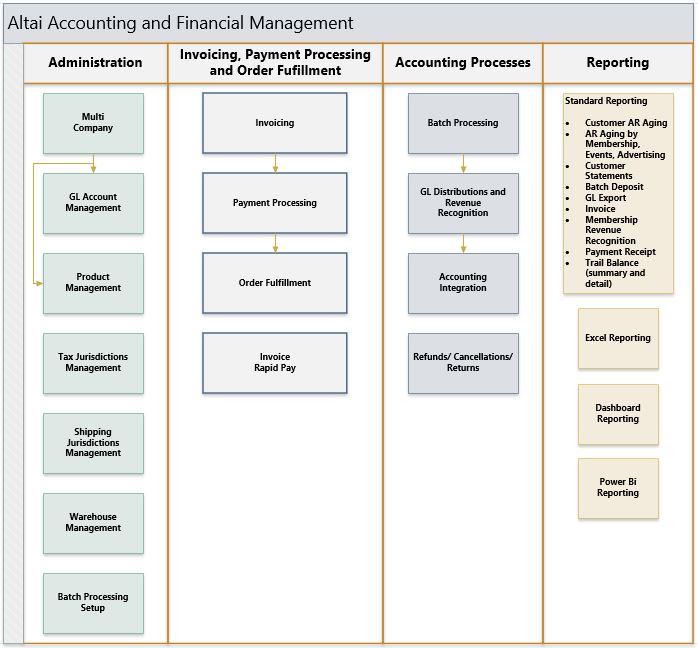 Easy to use and complete management of your accounting companies in one place.
Including: 
1. Chart of accounts – easy access to each company's chart of accounts with the ability to maintain your chart of accounts.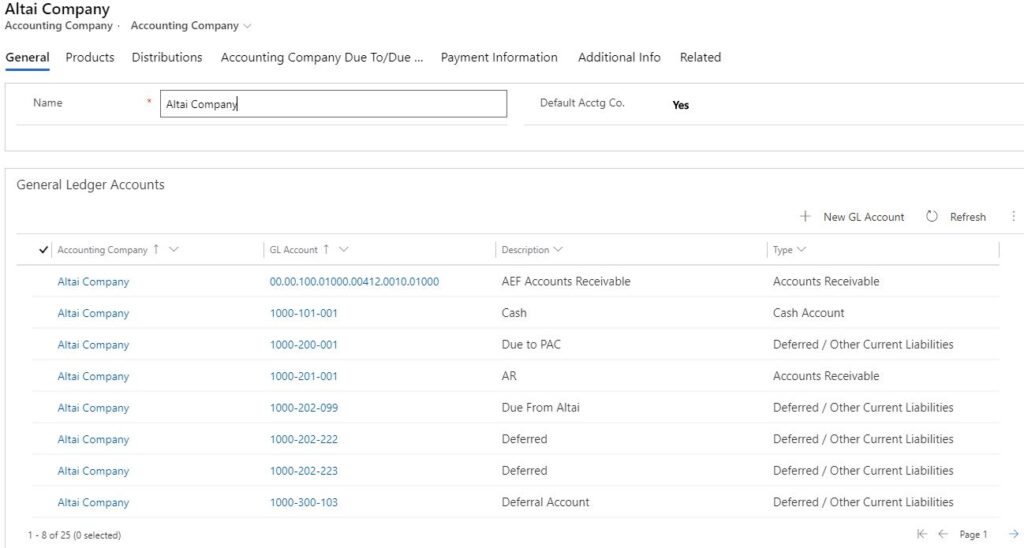 2. Product management – Full and easy access for the setup and management of your products for each company.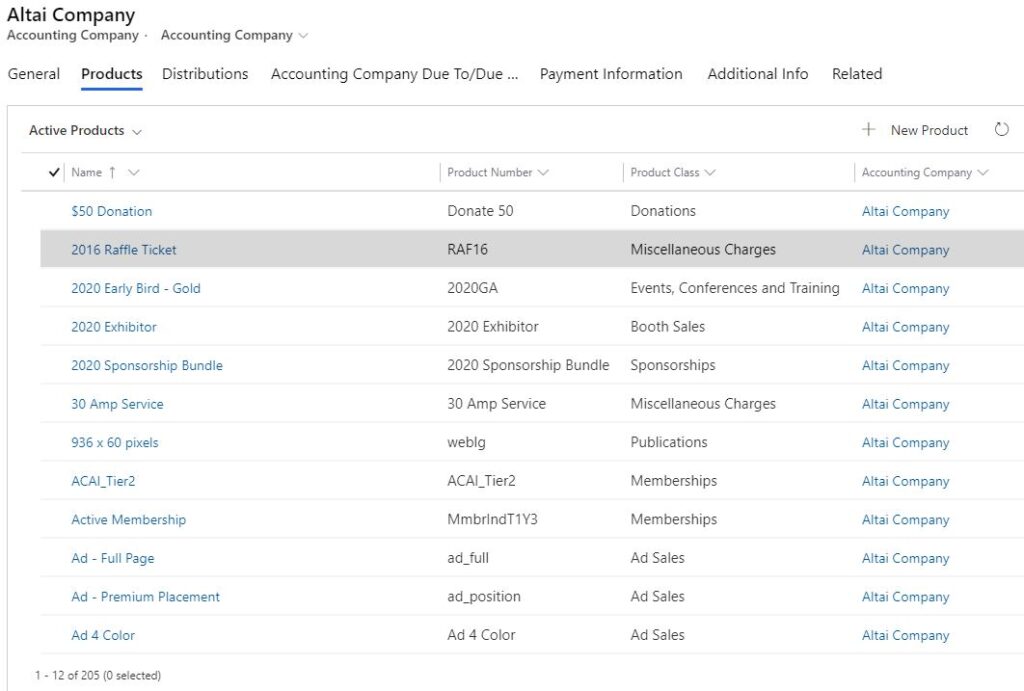 3. Easy access to your distributions for reporting and analysis.  In addition to the dashboard and reports we provide; you have easy access to your distribution data to create your own stories and perform analysis.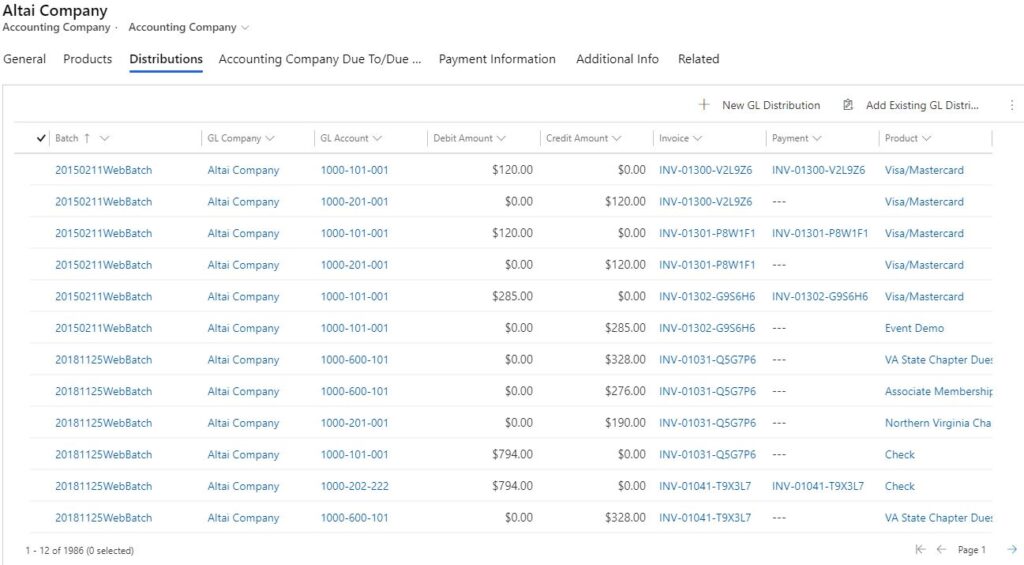 4. Multi-company support for "due to" / "due from" and splitting transactions across multiple companies. We've automated the related "due to / due from" accounting processes to simplify the everyday work required in managing multiple companies. 

5. In-depth batch deferral processing and reporting across multiple lines of business, including:
Deferred Revenue by Membership Type
Deferred Revenue by Event Type
Deferred Revenue by Session Type
Deferred Revenue by Product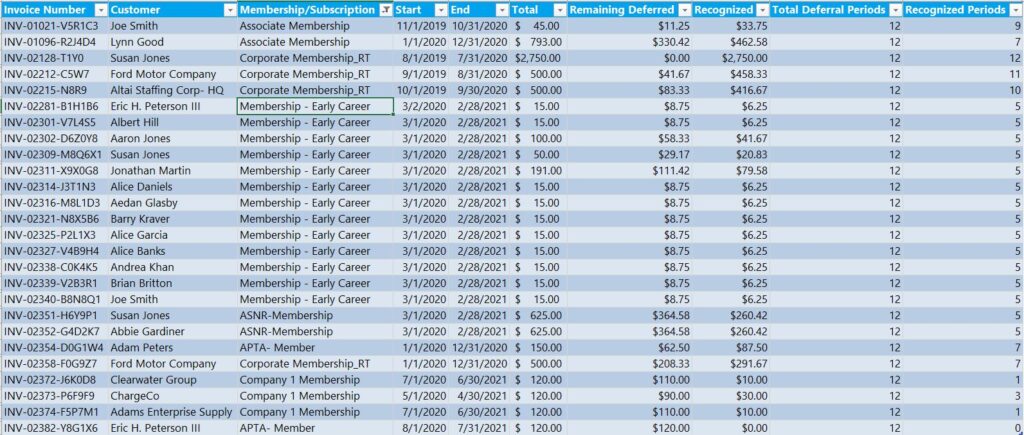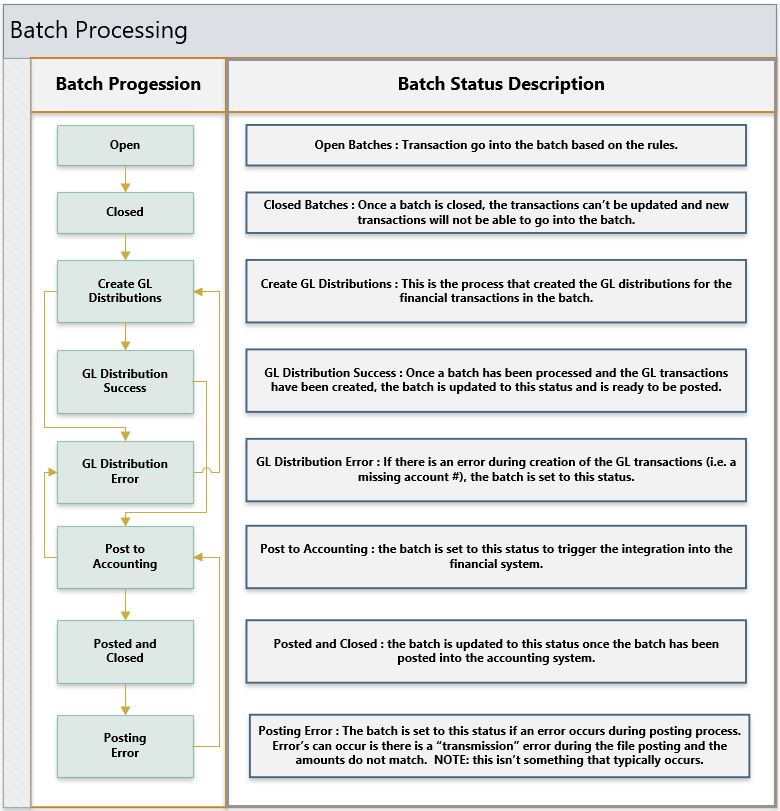 6. Batches highly configurable by product, date, user, payment type – Our batch setup process automates the management of batches. We automatically create batches and direct the flow of products into specific batch types.  A couple of examples include:
Credit Card Payments – All Amex payments go into a batch while Visa and Mastercard go into a separate batch. This simplifies the reconciliation of the payments.
Renewal Invoices – these can all go into a specific batch, automatically making it easier for you to access and report on them.
These configurations provide easy auto reconciliation. For example, your credit card batches will match your credit card authorization reports.
7. Batch dues processing – The system will automatically generate your dues bill renewals if you want it to, or you can run the process manually (which takes about 5 minutes to kick off the process).
8. Choice of either GL integration or transaction integration to the financial management system
9. Optional advanced inventory/purchasing/backorder/warehousing functionality
10. Multithreaded batch processing – supports processing thousands of transactions in a single batch.
11. Ability to see and pay open invoices online
12. Tax jurisdictions management – Our system supports tax jurisdictions and charges. We also have integrated with several 3rd party solutions as well.
13. Shipping jurisdictions management – Our system provides support for multiple shipping jurisdiction rules and charging for shipping.  We also have integrated with several 3rd party solutions as well.
14. Warehouse management – We support core inventory management, including the tracking of product availability (inventory), back-ordering, and replenishing inventory.
15. Rapid pay – Save time using rapid pay to record a payment against multiple invoices in the system.  Staff can apply a single payment (check or credit card) across multiple invoices.  This saves significant amounts of time entering and applying for payments manually.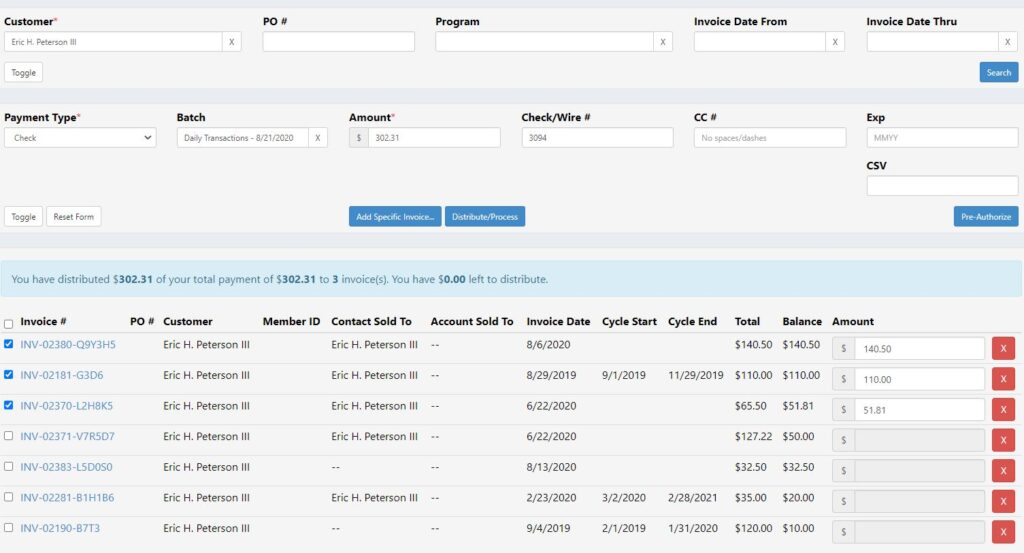 Easy and Informative Dashboard Reporting
You can quickly get to your data without having to "click around" or search for it.  Our "out of the box" financial dashboards provide access to the data you need.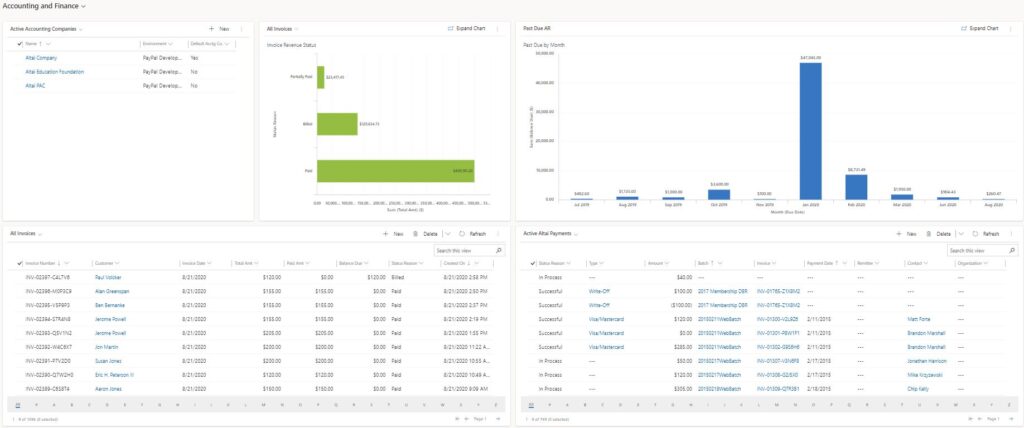 Batch Management and Integration
From our batch management and integration dashboard, you can quickly access your financial batches, process them, and integrate into your accounting system.  The purpose of this dashboard is to provide you with an easy to use and intuitive place to manage your batch types, financial batches, and integrations.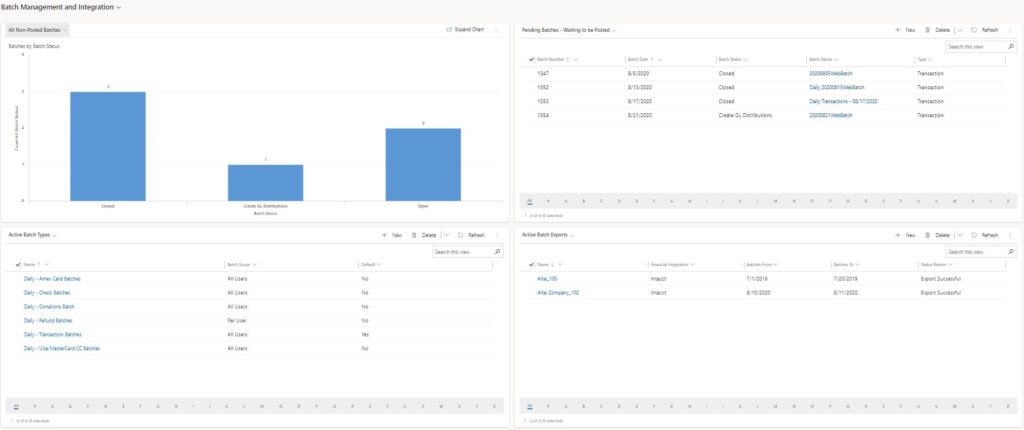 In conclusion, the Altai Financial Solution provides our clients with a robust, easy to use system that ensures you're following every accounting principle. Not only can organizations perform the tasks they need to each day, but they are also able to use the information to perform data analysis and make better-informed decisions.