Even as some states are easing stay-at-home restrictions, the future is uncertain and most associations are still operating remotely. Due to the way you set up your remote teams, you may feel like you scrambled to get up and running. Given the rush, you may not have had time to think strategically about how to virtually work more collaboratively and efficiently today and into the future. We want to help you look deeper and identify tools to facilitate your long-term objectives.
Primary Objective
During a recent webinar, we were able to poll attendees and ask them: What is your primary objective of remote collaboration? With over 200 people responding, the majority said it was for "Staff to work effectively remotely." Given that this question was asked just as stay-at-home directives were being administered, that response is not surprising. Most managers were thinking in that in the short term that they simply wanted their staff to be able to work at all!
The more interesting objective was the one that ranked the next highest in the poll, "Manage Work Projects." While this is a very broad category, the idea of how to better manage your work in a collaborative way remotely is the prevailing goal of that statement.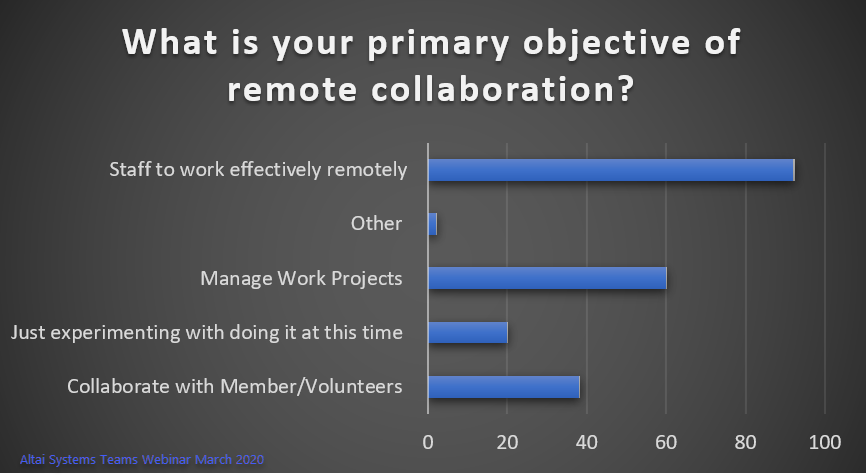 Association Management
If there is one lesson many associations recently learned the hard way, it's the undisputed benefit of hosting your AMS in the cloud. Many associations operating on-premises association management software (AMS) solutions were blindsided by configuring and then granting VPN access remotely to ALL their employees. A consultant told us about one of their association clients. Sadly, as the directives became mandatory, they lacked the time and resources to get up and running remotely because they could not transfer their on-premises solutions online. They have been unable to operate AT ALL for six weeks!
A solution that operates in the cloud allows your team to seamlessly work on their projects from anywhere. Azure Cloud based AMS solutions (such as Altai Systems which is built within Microsoft Dynamics) offer, easy reporting, automatic upgrades, GDPR/privacy compliance, and an overall lower total cost of ownership.
Virtual Teams Management
The number one virtual collaboration app for business is Microsoft Teams. By the end of last month, Microsoft reported 44 million users, up from 20 million in November. A part of the Microsoft Office 365 subscription, Teams adoption has grown so quickly because of its ease of use and robust communication and collaboration features. Some of its top features include:
Real-time messaging

Video conferencing

Audio calls

Screen sharing

Document sharing across all Microsoft platforms and housed in SharePoint

Microsoft Immersive Reader – it speaks the text on a channel aloud

Ability to filter activity with @ mentions

Ability to bookmark specific content

Inline message translation – allows users to chat in their native language and then translate messages into their users' language

Automatic transcripts on cloud recordings

AND MORE!
Whether your project entails creating course content or planning your annual meeting, Microsoft Teams is versatile enough to serve all your collaboration needs. (Fun fact: one association we interviewed said that their staff no longer uses walkie-talkies onsite to communicate with each other at their trade shows. Instead, everyone has the Microsoft Teams app on their cell phones and communicates via the app.)
If you want to view Teams in action and learn more, you are welcome to view our recent Microsoft Teams webinars held jointly with ASAE. We are offering each of them as a Webinar on Demand for anyone interested. (Note: If your organization is using Microsoft Office, but can't access Teams, ask your IT administrator for access.)
Summary
Many organizational experts are speculating that after the Coronavirus emergency is over, organizations will continue to embrace working virtually. According to Greg Caplan, CEO of the company Remote Year, "Coronavirus is going to expose more people to working remotely than ever. Most people will see that it is very possible and start to grow accustomed to the benefits of [remote work], including autonomy, no commute, and less distractions than open offices. Companies that don't allow remote work already are going to have to continue supporting it going forward, now that they have proven to themselves that it works." As the leader of a remote company, Altai Co-Founder Mike Frye also believes that "not being bound to a specific geography has enabled us to hire the best people no matter where they live." No matter where you are located, contact us to see how we can help your organization become more efficient virtually, now and into the future. We can show you how to work smarter, not harder.