A Configured Association Management System
VS
Custom-Built
Why Altai Systems, built within the Microsoft Power Platform is the right fit for associations even if your association is considering a custom-built solution
One of the main arguments for building custom software for your association is that it will fit exactly what you need and match your specific user requirements. Custom Solution developers argue an off-the-shelf software is built to fit a generic audience and not your association's unique needs. What's missing from this argument is the configurability of off-the-shelf platforms that perform and behave like custom software without the years-long effort to get your custom-built solution where it needs to be. These platforms start your association in the final mile of a marathon, we've already run the first 25.2 miles so that when you join the team, we simply finish the race together.
This option has all the benefits of custom software without the detraction of a long, harrowing, implementation followed by ongoing retrofitting and maintenance. A configurable platform is designed to meet your unique needs while also working behind the scenes to remove bugs, install upgrades, security patches, feature enhancements, and more. There will never be a question about who is responsible for this ongoing maintenance and improvement. Your SaaS partner takes that burden off your shoulders, alleviating that stress from your internal team.
Altai Systems has 100,000+ hours getting our solution where it is and continue to invest hours into improvements, maintenance, and upgrades. We already know associations and have done development creating a solid framework for your association-specific solution. Building on top of that kind of investment in our technology allows us to configure the platform to exacting terms that match your association's needs today and tomorrow. With your configured solution working exactly the way you need, we'll continue to invest in improvements and upgrades so you'll never need to worry about it. Our software continues to improve, unlike a custom solution that remains static until you invest more money to improve it.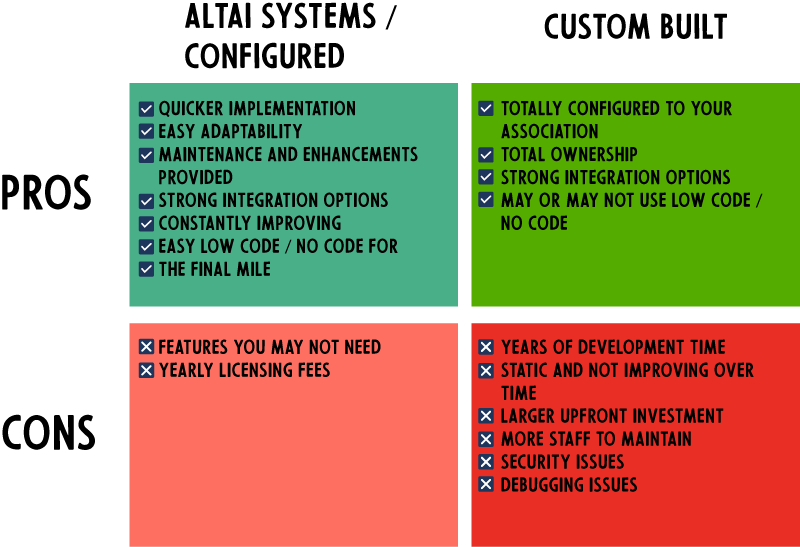 On the flip side, custom developers argue that their solutions don't include a yearly licensing fee. What they neglect to tell you is that your licensing fee pays for the continuous improvements, debugging efforts, revamps, upgrades, and improvements that allow your software to stay current. Custom-built solutions remain static and unadaptable to changes in technology. As you go through the long implementation phase, you lose valuable growth from the technology you're building on and by the time you go live, you already have out-of-date software. Even worse, your association most likely needs to hire staff or dedicate significant time to maintaining your custom-built solution just to keep it secure and operating at the status quo. These expenses are difficult to predict and are therefore often overlooked.
At the end of the day, your association will need to budget for the extraneous time and expense it takes to build a custom solution from scratch and then maintain it day in and day out. Weigh the stress and effort that this time and effort takes away from other projects and determine what is best for your association.