One of the universal activities common to all associations is planning meetings, big and small. Using effective planning apps are paramount in keeping your team informed, connected, and collaborating. Many organizations use Google Calendar, Trello, or Jira to manage their planning activities. While those apps are good, if you are an Office or Dynamics 365 user (or are about to be), you may want to instead consider using Microsoft Planner and StaffHub in conjunction with the Teams app.
Teams and Planning in Action
Last month we explored the main features and functions of the Microsoft Teams app in our blog article, "Microsoft Teams: Designed to Improve Your Association's Collaboration." In that article we focused our thesis around the ways Teams can be used to facilitate better team collaboration. Now we want to tell you more about how you can use Planner and StaffHub with Teams to help maximize your planning activities.
Planner
Microsoft Planner is a project task management system. Planner makes it easy for your staff to create new plans, organize and assign tasks, share files, chat about what you're working on, and get updates on progress. Planner can be used to manage an educational event, brainstorm new member engagement ideas, track completion of annual meeting components, prepare for an advocacy day, or just generally organize your team members more effectively. It is connected to your Outlook, so you will receive notifications and reminders of upcoming tasks that you set for yourself.
It also allows you to assign individual tasks or assignments with due date expectations to any of your organization's other Office or Dynamics 365 users. If someone else assigns you a task, you will receive a notification that a task has been assigned to you. Then you will also start receiving the reminder notifications in Outlook.
When implemented within Microsoft Teams, this becomes an invaluable way of assigning, tracking and completing tasks for your team. Likewise, when used in a Dynamics based association management environment (like Altai's), you will also be able to have all your planning activities link directly back to your AMS. Because this is already a part of Office 365, this is super easy to use and considerably less expensive than a separate time and materials management system.
.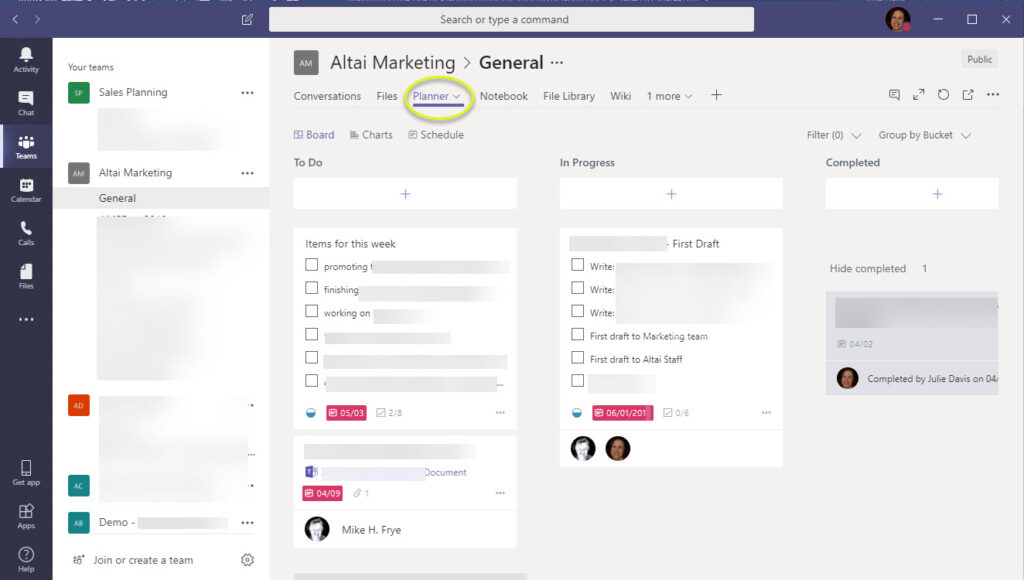 StaffHub
Microsoft StaffHub is currently an app that helps you create and manage work shifts, share files, and communicate important information with team members. Effective October 1, 2019, StaffHub will be retired and all its capabilities will be rolled into Teams. Today, Teams includes the Shifts app for schedule management. Starting in October StaffHub's additional capabilities will roll out over time.
Both today and in the future, this tool can be particularly useful for organizations that have annual meetings, advocacy days, or multiple events that require a coordination of staff and volunteers. Team members can have access to all their shift information, including the ability to easily swap shifts with others, from a mobile app. Using the app can ease the on-site coordination of events. It can also lower the probability of miscommunication within the team. When used in a Dynamics 365 environment, StaffHub can also help with committee management by seamlessly tracking and logging your committee's activities within your AMS.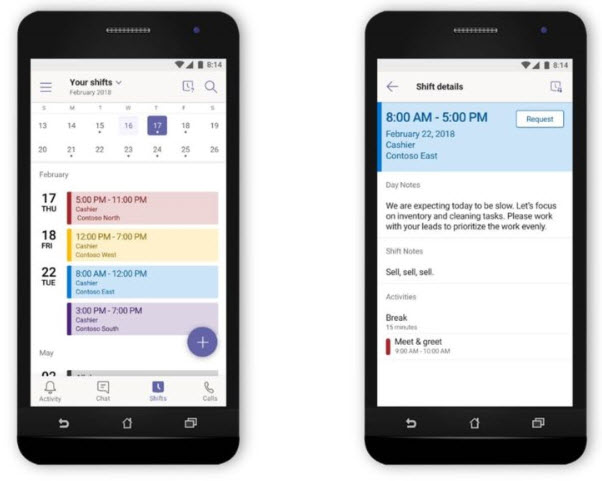 Summary
With so many familiar tools already available to you through Office 365, the need to add outside planning apps is practically obsolete. If you would like to see the overview of Planner and StaffHub specifically, please complete the form below to receive a link to view our joint webinar with ReviewMyAMS entitled Top 5 Microsoft 365 Apps You Can Use Today.  You can also always reach us at sales@altaisystems.com with any questions about this article and how it can be used to enhance your association management.